Indoor Dog Fencing Systems

– Wireless fence systems and wired dog fences
Wireless indoor pet fences
We offer a wireless indoor Hidden Dog Fence system. This is a small system that creates a wireless "stay away zone"(not a containment zone) A great way to block a small area such as a stairway, a small room or just the entrance to a room. However the most common uses for the wireless fence is to keep the dogs away from the garbage can, the cat pan (tootsie roll treats), or from counter surfing (jumping up and eating off the kitchen counters)
Indoor wired pet fences
Want to zone off multiple areas with one unit? We can also run a wire loop inside your home to cover multiple areas. In most cases, the unit is mounted in the basement, and we run a pet fencing wire in the ceiling of a basement, and the dog fence signal travels through the floor and into the areas above that need to be avoided. This tiny indoor pet fence unit is the most versatile in the market. It can be used as a wired or wireless dog fence inside your home.
NOTE: Hidden Pet Fence in Albany, NY is NOT affiliated with the Invisible Fence® Brand in Albany, NY or the PetSafe® brand. We do however offer replacement Invisible Fence® Brand Batteries, service, dog training and parts for those brands. We are NOT authorized dealers for those companies. We are still service all Pet Stop clients.
Radio Fence® and Underground Fence® are Trademarks of Radio Systems Corporation.
PetSafe® is the registered Trademark of Radio Systems® Corporation
Invisible Fence® is a registered trademark of Invisible Fence Inc.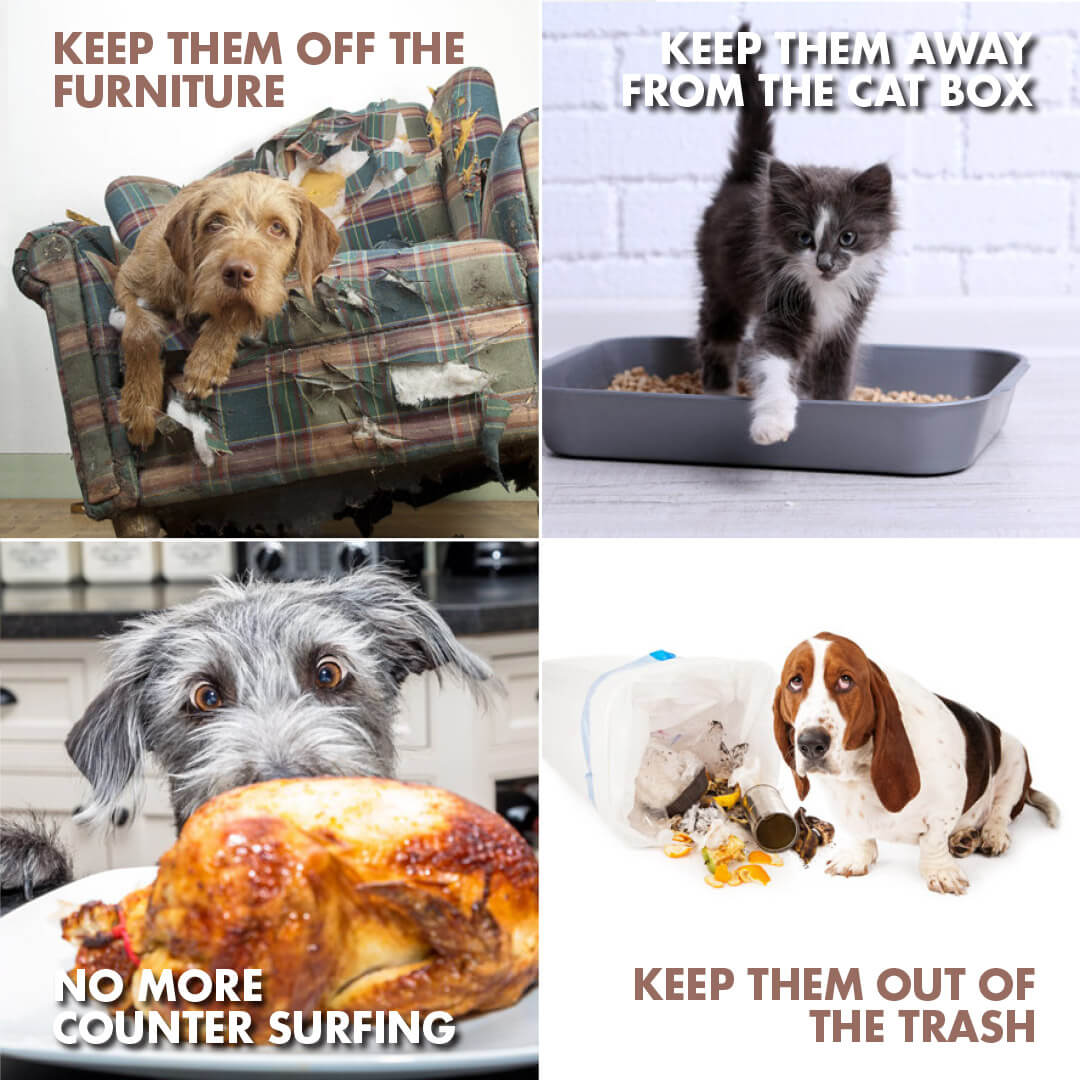 Indoor Avoidance
Is your dog getting on furniture, into garbage cans, or eating stuff from the cat litter pan? Do you have an area, or rooms, that you don't want your dog to go into? This is something we can help with. Training a dog to understand that's those areas are off limits is very easy and aordable! We can run a wire through the house in the basement or use freestanding "No!" Zone to stop them from entering any area you choose.
Keep them o the furniture
Keep them away from the cat's area
Keep them o the counters
Keep them out of the trash
Keep them out of rooms, stairs, and hallways
The diagram to the right shows how a free standing unit creates a boundary and how a wired system can be totally customized to t any size or shape. The indoor "No!" Zone works with the dog's outdoor fence collar, so there is no need to purchase a different collar for indoors.