Hidden Pet Fence of Albany NY
Hidden Pet Fence of Albany is the areas best Invisible Fence Alternative. We are the EXPERTS in hidden dog fence sales, installation, dog training, AND we can service any existing Invisible Fence brand® system in the Capital District of New York.
Call Us 518-631-5832
Get A Free Estimate
Superior Service and a Lifetime Warranty
About

Hidden Pet Fence NY

Our company started in 1992 as a one man operation. In 2004, Ralph Rizzo purchased the company because of the great dog fence training that was humane and 100% successful. In just a few short years, Ralph took the company to a new level of sales and service.

The company has grown, adding employees, offices, and some more dog friendly features. Standard operating procedures and lots of time went into hiring and training our team members to be the best in the pet fence industry.

In 2006, our dealership won an award from Radio Systems, the owner of the Invisible Fence brand. In 2007, we became one of the TOP 10 "Big Dog" dealers in the country with our American Manufacturer.

We have been a top dealer every year since then. Several of our products earned us the Consumers Digest Best Buy Award. We earned awards, certificates, and other accolades from many well know agencies— Angies List, Service Master, Home Advisor, and more.

We continue to thrive every year, earning the trust of dog owners near and far.
Dog Fence
Training
We train your dog so you don't have to
Condition Response Training is one of the main reasons why people choose us for installing their dog fence system. With this training process it is possible to customize your dog's restricted areas even better. We are pet friendly and as animal lovers ourselves we have more Features and Functionality in our dog fence system than any of our competitors. The dog fence products we use are MADE IN THE USA! That means the products are 100% safe for pets and will not harm them.  How sure are we that we can contain your dog? We offer a money back guarantee! Big Dog, or small…. Wild and excited or timid…. Smart and not so smart dogs will be trained properly to stay in your yard, or you will get your money back!
Already own an Invisible Fence brand system®?  Click here to SAVE on batteries, repairs, training and replacement parts or upgrades!
The latest technology
Hidden Fence of Albany is the industry leader in technology, and humane & effective dog training for electronic pet fencing. The underground electronic dog fence can be set up into a variety of different areas with different levels of static stimulation (higher levels for stubborn dogs) to which our dog trainer will humanely train them to retreat when they hear the warning zone beeping. Our pet fencing system is perfect for any area or any size dog or cat. It can go into woods, lakes, ponds, even inside your home. In other words, no landscape is an obstacle to us. Want your puppy in the grass, but out of the garden or landscape? Done! In the kitchen, but out of the dining room? Done! Is your house on the water, and you want your dog to reach the water front or boat dock? Done. We customize it for you and your needs, inside or outside your home. Plus, our underground hidden dog fence is more economical and maintenance free unlike the traditional alternatives such as a conventional chain link fence, wood fence or vinyl fencing.
Custom Training Program
Years ago, Hidden Pet Fence owner Ralph Rizzo, created a training program for dogs that is used every day. He is a nationally known IACP (International Association of Canine Professionals) certified trainer & uses the most humane training system in the industry. Most people think it's just a matter of letting their dog get corrected or shocked a few times and the dog learns to obey boundaries on it's own. It does not work that way, as shock alone does not keep the dog in the yard. Dog's need to be conditioned with sound, feeling that doesn't scare or freak them out, and reward. Many dog fence trainers use shock to train, and then the owners are stuck with a "porch dog" because they are to scared to go outside. Over shocking a dog creates fear, not a trained condition. All breeds of dog are compatible with our system from larger watch dogs to smaller family dogs. We even train cats to the fence!
Do you have a dog and need a fence? You have come to the right place!
Invisible Fence® brand compatible. Best Fence, Best Price!
Why Choose

Hidden Pet Fence NY

Dog Yard Hidden Fence is the best pet fencing & dog door installation company in the Capital District, but that's not all we do. As a full service pet solutions company we can provide professional behavior modification training, using remote controlled systems, and bark control systems. We also offer professional installation of dog doors made by PetSafe® and professional grade dog doors made by Ideal® dog door company. Our high grade dog door is simply the best you can buy. The energy efficiency is rated number one in the industry with the patented insulated design. Dog breeders, veterinarians, dog trainers and other pet professionals in Albany, NY recommend us over the other brand of pet containment because we offer a COMPLETE pet solution & the best service after the sale.

We are located in Schenectady NY, but we cover 10 counties. From Saratoga Springs, to Albany, Amsterdam to Athens NY. We cover the whole capitol district of New York. The counties we are currently covering are Albany, Schenectady, Montgomery, Fulton, Saratoga, Washington, Rensselaer, Columbia, Warren, Greene and Schoharie.
Our hidden fence works past the line. Other systems only work at the line and fast or stubborn dogs can run right past it and leave the yard.
The contacts that touch the dog are retractable! Other systems are solid steel probes the have NO give at all.
We offer rechargeable collars! Our competitors at Invisible Fence brand in the Albany Elmira and Rochester NY area charge $22 per battery every 3 months. That's $95 per year, per dog, just for batteries for the collar!
Our wire comes with a written guarantee! Up to a LIFETIME corrosion protection.
We are so sure that we can contain your dog, that we offer a money back guarantee! Contact us now for a free, no hassle, estimate.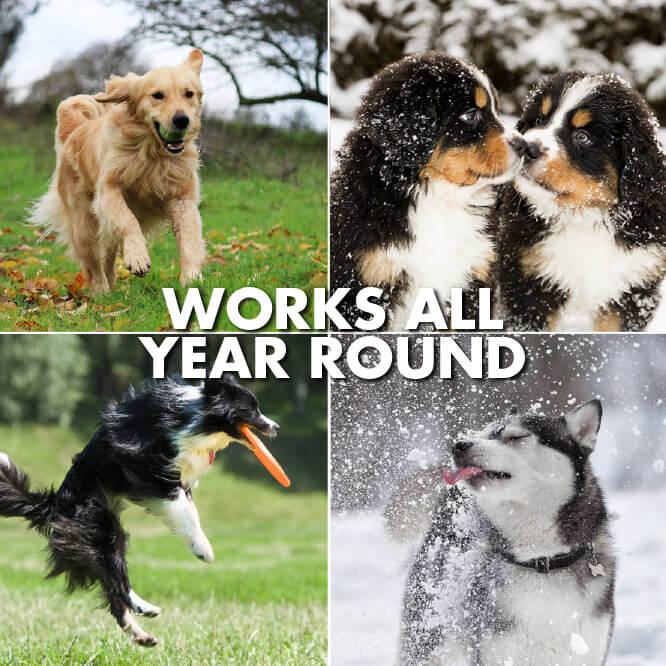 J. Thomas - Albany, NY

"I had a great experience with hidden pet fence. I called, got a quote from 2 companies and this one was the best option. We chose them because they are a local company, and was more knowledgeable and less expensive then the other company, and they had a better warranty. Highly recommended!"
R. Mauger - Albany, NY

"I had a great experience with hidden pet fence. I called, got a quote from 2 companies and this one was the best option. We chose them because they are a local company, and was more knowledgeable and less expensive then the other company, and they had a better warranty. Highly recommended!"
J. Berlucchi - Albany, NY

"Just want to thank the guys that were out on 4/14/15. Not only was my appointment scheduled rather quickly, the guys were prompt, courteous, and efficient at there job. Thanks for the Job Well Done!!!!"